$12.00
One Year Subscription
An annual subscription will get you two print issues (Winter and Summer) beginning with the current one. Also, we'll throw in some postcards or miscellaneous swag along the way, just for fun.
Since 2009 Booth has published some of the most exciting and cutting edge literature in the country, including work from John McNally, Roxane Gay, Jonathan Lethem, Ryan Boudinot, Kim Addonizio, Robin Black, Deb Olin Unferth, Kevin Wilson, Michael Martone, and many others. The Booth interview series has featured extended conversations with George Saunders, Jane Hamilton, Charles Simic, Nick Flynn, and more. At the same time, we continue to champion work from previously unpublished writers.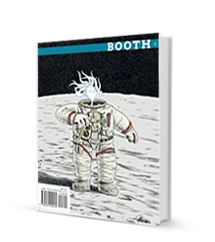 $8.00
Booth Four
2013
128 pages @ 6″ x 7.5"

Fiction: Matthew Baker, Roxane Gay, Michael Martone, Erin McGraw, John McNally, Kelcey Parker, Edward Porter, Joe Sacksteder, Kevin Wilson
Art & Comics: Dustin Harbin
Poetry: Sarah Carson, Tim DeJong, Nora Hickey, Claire Kiefer, Victoria Bosch Murray, Aubrey Ryan, J. A. Tyler, Audrey Walls, Susan Yount
Interviews: Joe Blair
Expert Miscellany: Alexander Lumans, Joshua Unikel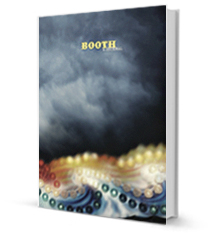 $8.00
Booth Three
2012
180 pages @ 7″ x 10"

Fiction: Ryan Boudinot, Kevin Ducey, Sherrie Flick, Kathleen Founds, Jesse Goolsby, Kirsty Logan, Mike Meginnis, Sarah Scoles
Art: Dale Bernstein
Poetry: Tasha Cotter, Dana Kroos, David LaBounty, Tara Mae Mulroy, Mark Petrie, Aubrey Ryan, Elizabeth Wade
Interviews: Jonathan Lethem, George Saunders
Expert Miscellany: Zeynep Alpaslan, Michael Bazzett, Kelsea Habecker, Nick St. John, Josh Wilker
$14.00
+ s & h
Monsters
A Collection of Literary Sightings
2012
In this collection of monster stories, writers such as Bonnie Jo Campbell, Benjamin Percy, and Aimee Bender take on mud men, mummies, and more.Edited by BJ Hollars, this book brings our collective fears and fascinations to life.
Publisher: Pressgang
Editor: BJ Hollars
Contributors: Matt Bell, Kate Bernheimer, John McNally, Alissa Nutting, Kevin Wilson + more!
$8.00
Booth Two
2011
116 pages @ 7″ x 10"

Fiction: John Baum, Aaron Burch, Edward Porter
Winesburg, Indiana: Barbara Bean, Kate Bernheimer, Robin Black, B.J. Hollars, Michael Martone, Deb Olin Unferth
Art: Austin Kleon
Poetry: Jason Bredle, Mary Buchinger, James Crews, Brent Fisk, Derrick Harriell, Lois Harrod, Marty McConnell
Interviews: Nick Flynn, Jane Hamilton
Expert Miscellany: Kathleen Balma, Karen Kovacik, Sarah Layden, Brian Oliu, Chad Redden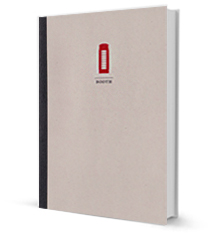 $5.00
Booth One
2010
68 pages @ 5 1/2″ x 8 1/2″

Fiction: Erica Plouffe Lazure, Davy Rothbart
Winesburg, Indiana: C. J. Hribal, Michael Martone, Joyelle McSweeney
Art: Jon Hicks
Poetry: John Gallaher, Julie Hanson, Clay Mathews, Gailmarie Pahmeier, David Shumate
Comics: Nick St. John
Expert Miscellany: Kim Addonizio, Jonathan Lethem, Robert Rebein